Maciejka is one of the most famous footwear brands in our home market, but also in foreign markets. Its production is based on natural leather and the highest quality components. The footwear of this brand is solid, comfortable and in line with world fashion canons. In our online MIDIAMO store, we present a sports model of gold-colored shoes of this brand. The top, interior and insole are made entirely of natural leather. The upper with an openwork front has been enriched with two side rubber inserts, whose task is to adjust the footwear to the width of the foot. The rubber, notched sole with a checkered pattern is very flexible, which significantly contributes to increasing the comfort of use. A very light model, universal, suitable for many different styles. It is a combination of practicality with comfort and, of course, incredible beauty and originality. Perfect for women who live in a constant run, who value comfort and functionality.
| Size | Insole length (cm) |
| --- | --- |
| 36 | 23,6 |
| 37 | 24,4 |
| 38 | 25,0 |
| 39 | 25,5 |
| 40 | 26,4 |
| 41 | 27,0 |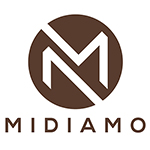 UNIVERSAL SIZE TABLE
HOW TO CHOOSE THE RIGHT SHOE SIZE?
1. Draw the foot on a white sheet of paper and draw two parallel lines, measure the distance between the heel and toe
2. If one foot is shorter, choose a size that matches the longer foot:
3. For shoes with a round or square toe, the length of the insole should be about 0.5 cm longer than the length of the foot:
4. For shoes with almond or pointed toe, the length of the insole should be about 0.7 - 1 cm longer than the length of the foot:
5. For slides or sandals, the length of the insole should be equal to the length of the foot: