The Maciejka brand is a recognized footwear manufacturer that has been creating high-quality shoes since 1997, focusing on customer satisfaction and using only the best materials. The upper is made of high-quality natural leather, lacquered black, and the red edge adds character to the shoes. The toe of the shoe is rounded, which ensures comfort and freedom for the toes. The interior of the shoe is lined with soft natural leather, which ensures comfort and convenience of wearing. The inner insole is lined with soft foam, which further increases the comfort of using the footwear. The sole is flexible, well-profiled, and its blue color harmonizes nicely with the red edge of the upper. The heel is flat, shapely and stable, which naturally slims the leg, providing a solid base for the entire figure. The reinforced heel helps keep the feet in the right position and prevents deformation of the footwear. There is a delicate brand logo on the outside of the heel. These Maciejka shoes are characterized by elegance, comfort and solid workmanship. They will work perfectly with both trousers and a dress, emphasizing the classic, balanced style.
| Size | Insole length (cm) |
| --- | --- |
| 36 | 24,3 |
| 37 | 25,0 |
| 38 | 25,5 |
| 39 | 26,4 |
| 40 | 26,9 |
| 41 | 27.5 |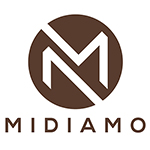 UNIVERSAL SIZE TABLE
HOW TO CHOOSE THE RIGHT SHOE SIZE?
1. Draw the foot on a white sheet of paper and draw two parallel lines, measure the distance between the heel and toe
2. If one foot is shorter, choose a size that matches the longer foot:
3. For shoes with a round or square toe, the length of the insole should be about 0.5 cm longer than the length of the foot:
4. For shoes with almond or pointed toe, the length of the insole should be about 0.7 - 1 cm longer than the length of the foot:
5. For slides or sandals, the length of the insole should be equal to the length of the foot: