Maciejka is a renowned Polish footwear company with many years of experience in the production of women's shoes. It offers unique models that stand out for their high quality and unique style. Openwork upper made of fabric imitating straw braid. This is the main element that characterizes the model, giving the shoes an original look. Fabric in shades of yellow and beige adds a note of freshness and lightness. Combination of fabric and natural leather internally: The interior of the shoe is a harmonious combination of fabric and natural leather, ensuring comfort of wearing. The inner insert is made of soft natural leather, which increases the comfort of use. The wedge-shaped sole is made of high-quality material. The sole has been carefully designed to provide good cushioning and comfort while walking. Standard laces allow you to adjust the upper to the width of the foot, ensuring a comfortable fit. Maciejka sneakers are a perfect combination of urban style, comfort and original design. Thanks to high-quality materials and careful production, they guarantee comfort and user satisfaction. Perfect for people who value comfort and a fashionable, original look of footwear.
| Size | Insole lenght(cm) |
| --- | --- |
| 36 | 23,4 |
| 37 | 24,0 |
| 38 | 24,6 |
| 39 | 25,3 |
| 40 | 26,0 |
| 41 | 26,8 |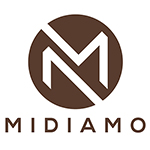 UNIVERSAL SIZE TABLE
HOW TO CHOOSE THE RIGHT SHOE SIZE?
1. Draw the foot on a white sheet of paper and draw two parallel lines, measure the distance between the heel and toe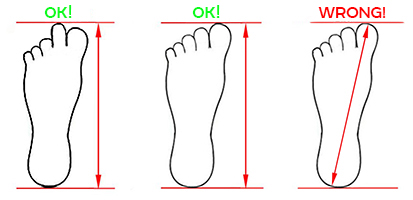 2. If one foot is shorter, choose a size that matches the longer foot: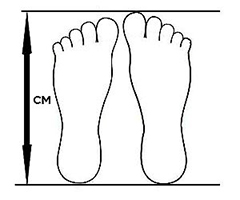 3. For shoes with a round or square toe, the length of the insole should be about 0.5 cm longer than the length of the foot: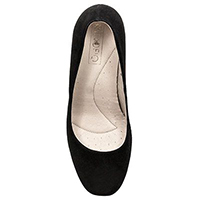 4. For shoes with almond or pointed toe, the length of the insole should be about 0.7 - 1 cm longer than the length of the foot:
5. For slides or sandals, the length of the insole should be equal to the length of the foot: