The Polish brand Maciejka presents the latest model of a low shoe, inspired by the production of the earlier model 03497. Wanting to meet the expectations of customers, the manufacturer combined the two most desirable elements and created these beautiful and comfortable pumps. The upper of these shoes is made entirely of natural grain leather in navy blue. The cutout for the toe and numerous cuts on the front of the shoe add lightness to it, but above all, they provide our feet with optimal temperature on even the hottest days. The interior of these shoes is also made of natural leather, finished with a soft leather insert. The sole is made of high-quality material and is a low, 3-centimeter wedge. There is a small, silver manufacturer's logo on the side under the ankle. Elegance and class are the visual advantages that come to mind when we look at these shoes. After putting them on, we can confidently say: comfort and convenience. A perfect addition to many summer clothes. We can confidently wear the shoes for any occasion and will certainly attract the attention of many a pair of eyes.
| Size | Insole length (cm) |
| --- | --- |
| 36 | 23,7 |
| 37 | 24,3 |
| 38 | 25,0 |
| 39 | 25,7 |
| 40 | 26,3 |
| 41 | 27,0 |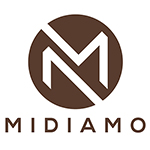 UNIVERSAL SIZE TABLE
HOW TO CHOOSE THE RIGHT SHOE SIZE?
1. Draw the foot on a white sheet of paper and draw two parallel lines, measure the distance between the heel and toe
2. If one foot is shorter, choose a size that matches the longer foot:
3. For shoes with a round or square toe, the length of the insole should be about 0.5 cm longer than the length of the foot:
4. For shoes with almond or pointed toe, the length of the insole should be about 0.7 - 1 cm longer than the length of the foot:
5. For slides or sandals, the length of the insole should be equal to the length of the foot: