Maciejka Blue Sandals 04236-06/00-5
Maciejka has an unusual approach to creating footwear, which makes each model unique. The brand not only follows the latest fashion trends, but also focuses on the highest quality of raw materials. This combination makes Maciejka footwear unrivaled and appreciated by many customers. The presented Maciejka sandals are a perfect example of this approach. Made of natural nubuck leather in a delicate, light shade of blue-gray, these sandals are a real showcase of the brand. The cut-out toes guarantee freedom of movement and good air circulation, which is perfect for warm days. The bracelet-shaped ankle fastening not only stabilizes the shoe on the leg, but also constitutes an impressive decorative element, adding character and expressiveness. The leather insole provides not only comfort, but also a feeling of softness and delicacy. The sole made of high-quality material is flexible and light, which ensures comfort when walking. The low heel, 4.5 cm high, combined with the built-in heel, subtly slims the leg, adding elegance to the entire silhouette. The original design of these sandals makes them versatile and goes well with various styles, giving them character and uniqueness. Every woman will appreciate not only their beauty, but also the comfort of wearing, which makes these sandals an ideal choice for warm summer days. The shoes also come with a spare set of insoles, which adds practicality and allows you to adjust the style of the footwear to your individual preferences. This is a perfect proposition for women who value comfort, fashion and unique design.
| Size | Insole lenght(cm) |
| --- | --- |
| 36 | 23,6 |
| 37 | 24,2 |
| 38 | 24,9 |
| 39 | 25,6 |
| 40 | 26,2 |
| 41 | 26,9 |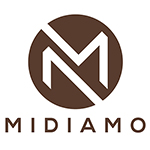 UNIVERSAL SIZE TABLE
HOW TO CHOOSE THE RIGHT SHOE SIZE?
1. Draw the foot on a white sheet of paper and draw two parallel lines, measure the distance between the heel and toe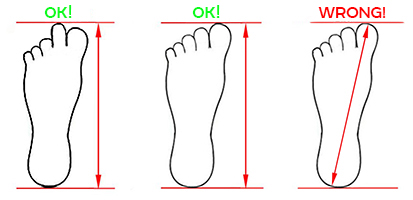 2. If one foot is shorter, choose a size that matches the longer foot: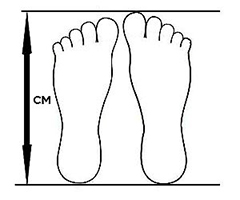 3. For shoes with a round or square toe, the length of the insole should be about 0.5 cm longer than the length of the foot: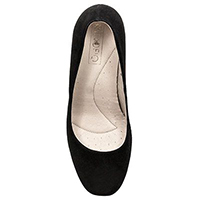 4. For shoes with almond or pointed toe, the length of the insole should be about 0.7 - 1 cm longer than the length of the foot:
5. For slides or sandals, the length of the insole should be equal to the length of the foot: