The described model of Maciejka shoes for the upcoming autumn-winter season is definitely a unique proposition that combines originality, comfort and convenience. The presented features emphasize the unique character of this footwear. The shoes are made of natural grain leather with a fashionable effect of flaming some elements of the upper, which adds a unique look to the shoes. Red skin tones give them a warm, autumn-winter character. The soft fleece-lined interior and the insole provide warmth and comfort, ensuring the appropriate temperature inside the shoe even on colder days. The zipper on the inside of the shoe makes it easier to put on and take off the shoes, and the lacing allows for a perfect fit to the foot. The characteristic, fancy upper with a slightly beveled shape slims the legs and gives an original look, perfectly matching both trousers, skirts and dresses. A sole made of high-quality material, based on a stable block heel 6 centimeters high, with an interesting pattern imitating the structure of wood, adds a unique and fashionable character to the footwear. The described model of Maciejka shoes is a proposition for women who want to express their individuality through unusual, fashionable accents. These footwear stand out for their original design, attention to detail and comfort of wearing, which makes them an excellent choice for those who are looking for unusual, stylish shoes.
| Size | Insole length (cm) |
| --- | --- |
| 36 | 24,1 |
| 37 | 24,8 |
| 38 | 25,4 |
| 39 | 26,0 |
| 40 | 26,8 |
| 41 | 27,5 |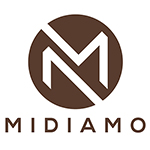 UNIVERSAL SIZE TABLE
HOW TO CHOOSE THE RIGHT SHOE SIZE?
1. Draw the foot on a white sheet of paper and draw two parallel lines, measure the distance between the heel and toe
2. If one foot is shorter, choose a size that matches the longer foot:
3. For shoes with a round or square toe, the length of the insole should be about 0.5 cm longer than the length of the foot:
4. For shoes with almond or pointed toe, the length of the insole should be about 0.7 - 1 cm longer than the length of the foot:
5. For slides or sandals, the length of the insole should be equal to the length of the foot: